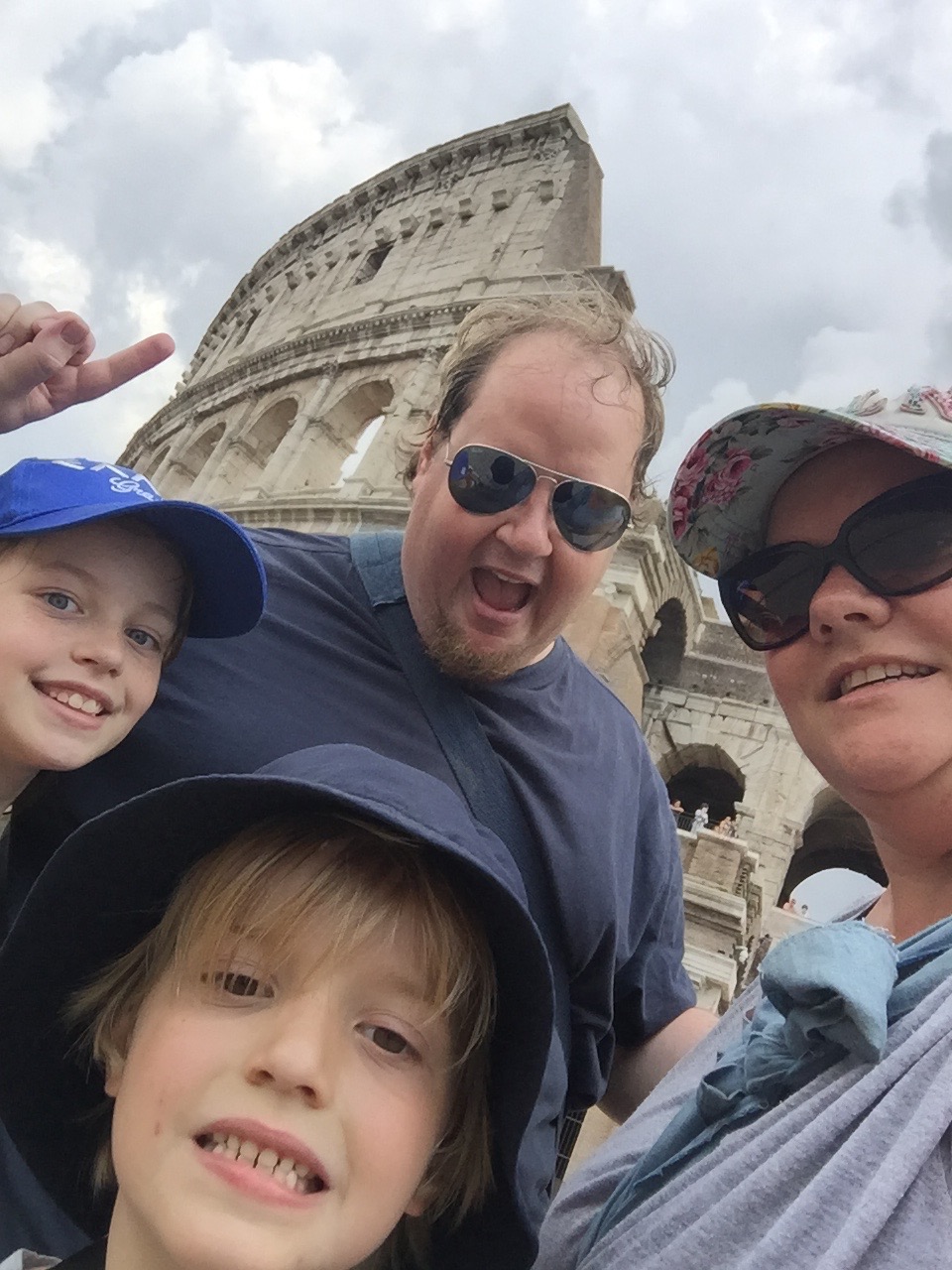 The Best in Travel: ITALY – PART I: ROME
The best advice I could ever give anyone when they asked about European travel would be to tell them to go to Italy. Whether you are a single woman travelling, or an elderly retired couple taking that long awaited European adventure, or a family backpacking around the world, it is quite incredible.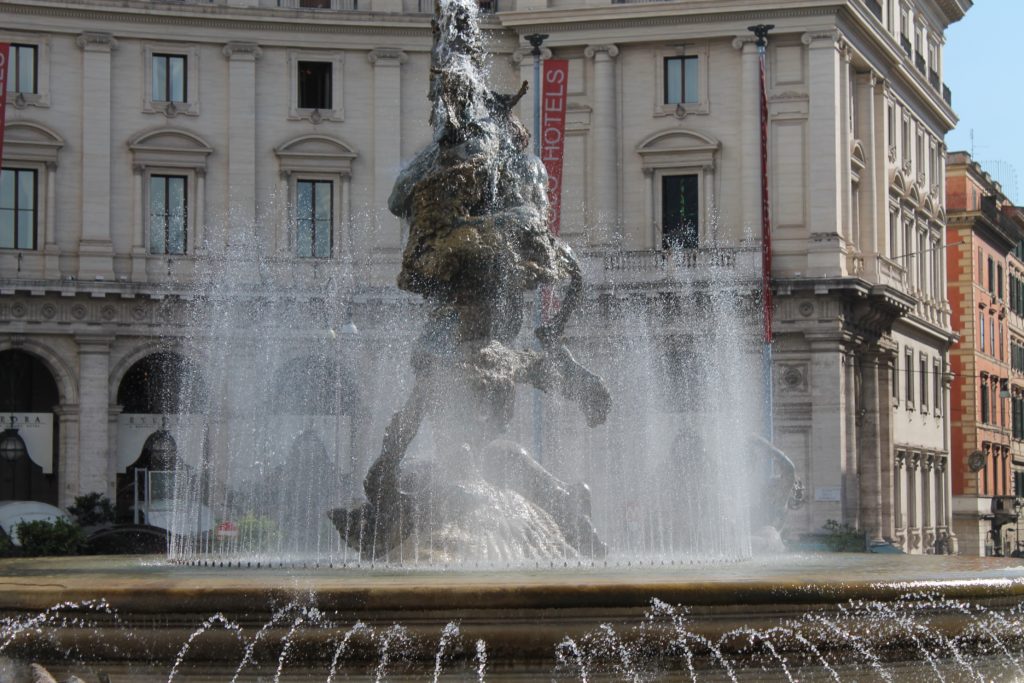 We have been here for almost two weeks and have seen Rome, Naples, Pompeii, Florence, Pisa and Tuscany. Tomorrow we drive (yes we have driven in Italy) from Florence to Venice, and we are expecting more of the amazingness we have discovered so far.
I'll do another post a bit later to talk about the rest of Italy – but for today I will focus on our time in Rome.
ROME
ArgeySon never wanted to leave Rome. That just about says it all. Our six year old boy, who is always with me, always wanting to be at home, playing with his toys in his space, he just NEVER wanted to leave.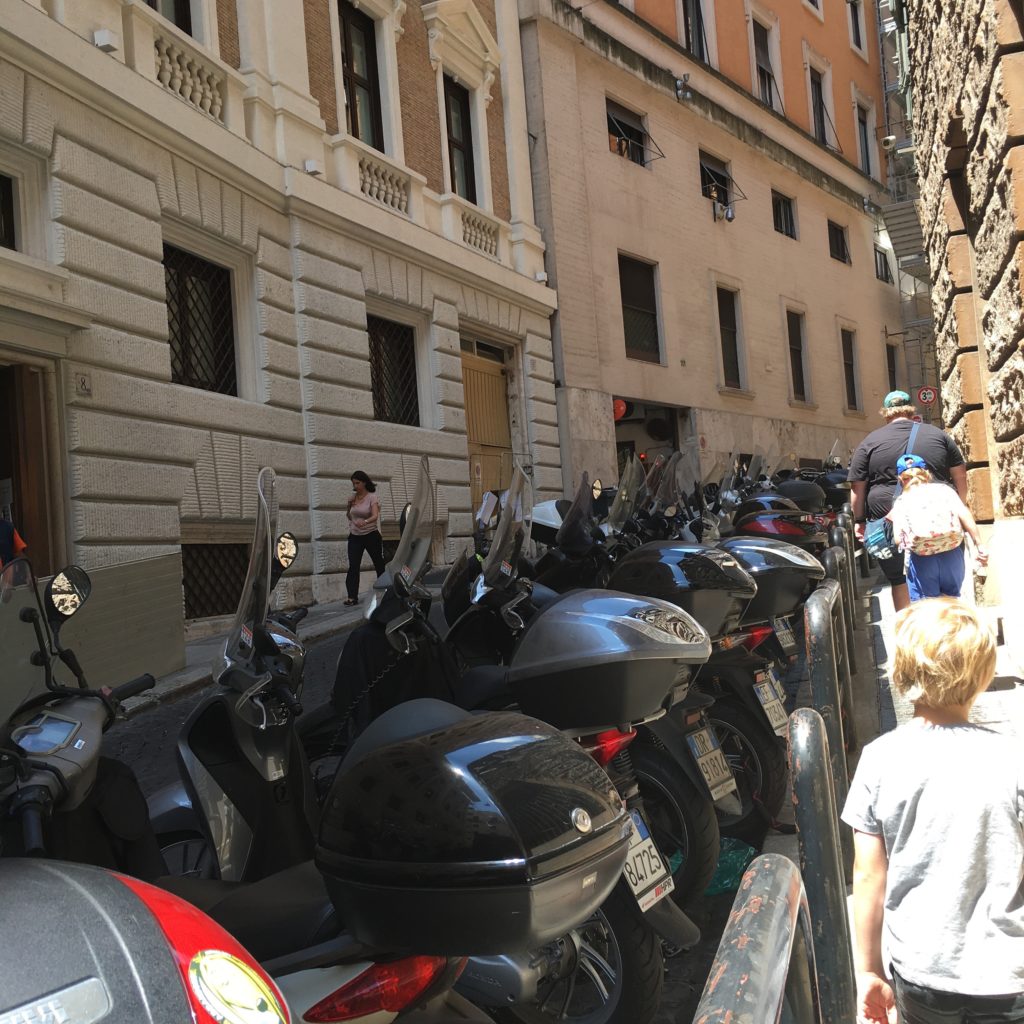 Part of this was due to the place we stayed. Camping Fabulous Rome was sort of like what, in Australia, would be known as a caravan park. Only it wasn't. It was this massive park that was full of cabins. There was also a (very) small area for tent pitches, and another small area for seasonal caravan parking (but the caravans were permanently there, many covered with tarps until their owners came for the season I would think) and then there were literally hundreds of cabins (or villas) of various sizes. We were in a five berth cabin, which even with just two adults and two kids was squishy to begin with, but by the end of the week, we weren't really noticing the confined living space. It definitely meant ArgeyDaughter kept her suitcase a bit tidier (and with that we all hear the angel chorus sing "ahhhhhh" at the miracle) otherwise she would have been tripping over stuff.
The park itself also had a mini supermarket, a restaurant, a bar (that also sold ice cream – a massive "small" for €2), two playgrounds, soccer/volleyball grounds, a kids club, a cafe/icecreamery, two pools (with another restaurant) AND to top it all off, you could hire bicycles to get around the park. We definitely hit the jackpot. In fact we hit the jackpot so much that we actually only went into the city twice! Crazy right?
Well, maybe not so crazy. First of all (and probably the biggest draw back) was that it took a good hour to get into the city. We had to catch a bus (which was hot and crowded) to the closest metro station, and then catch the metro (which was hot and crowded) into the city. Two hours of public transport in a day would put a lot of people off. But also not. There were always a large group of campers standing at the bus stop waiting for a bus to come along.
But when we did make the journey we were definitely not disappointed. One of the coolest things about travel is the surprise you get when you walk out of tube/metro stations for the first time. For me, the Colosseo metro stop was one of the best surprises yet. Yes by the name of the station I had presumed the Colosseum would be close. I just didn't expect it to be RIGHT across the road!!! Look out and up when you come out of the dark station and THERE IT IS! THE COLOSSEUM! This massively, big, half ruined structure was across the road. I don't know why, but it just always surprises me, that, I don't know, the places are REAL… maybe? I'm not sure. But I get butterflies in my stomach every time I see something new, and especially when I see it by surprise.
After we spent a few minutes picking our jaws up from off the ancient ground, and fending off the hoards of spruikers yelling "WATER TWO EURO" or waving selfie sticks/hats/Colosseum trinkets at you while saying "five euro, five euro, five euro, five euro" we moved away from the entrance of the station. We decided we would go on the City Sightseeing Tour tour. I was a little worried because the company in Rome hadn't received very good reviews on TripAdvisor, and they didn't have any live guides (which always means the kids get bored easily). But we hadn't been disappointed with them in other cities so we went ahead and bought our tickets. It was a hot and sticky day so it was always going to be a bit of a pain being on an open top tour bus, but we slip-slop-slapped and on we got. It was The Dad's first proper full day of venturing out since hurting his back in Krakow, so it was always going to be a bit of a hit and miss day. Poor guy has seen an awful lot of hotel rooms in Europe and not a lot else.
The first thing that struck me about Rome was how daunting it all was; it was busy, hot, crazy, noisy, stimulating, beautiful, historical… Honestly, there are too many adjectives to describe the city. I found myself quite overwhelmed by it all. But as always, a tour bus was a great way to orient ourselves, and we saw an awful lot of the famous sites.
I found the recorded audio guide of the tour bus a little sparse in information and not overly interesting, but ArgeyDad found it fascinating. It could have been that I had the kids sitting with me, and I was desperately trying to keep them hydrated, cool, happy, interested and entertained, while trying to take in the information that was playing through my headphones – Or it could have been that The Dad hadn't been sightseeing properly in about six weeks and he was just stoked to be standing up!
We got off half way around the tour route to have some lunch, and when we got back on the bus we had much better seats. The kids and I were able to spread out a bit up the back of the bus, and ArgeyDad was able to get a seat all to himself up the front, so we finished off the tour and then did the whole thing again so that he could get good photos. The kids and I amused ourselves by watching all the near accidents on the Roman streets, making up stories about things we saw, and chatting to the spruiker (who seemed to magically appear at several stops) that would continually try to get us to buy a selfie stick (we were to throw €5 down to him he would extend the selfie stick and pass it up to us – yeah no thanks bud!).
The NEXT day we ventured back in to Rome with the express purpose of just going to the Colosseum.
AND GO TO THE COLOSSEUM WE DID.

It was freaking AMAZING! The kids spent the morning at the campground doing a little bit of schoolwork; doing up fact sheets with the small bit of information they had learnt about Rome so far and writing a list of spelling words… and then we walked to the bus stop and off we went again.
It was another HOT day… when I say hot, it was really only about 29, but it was a Brisbane-summer-29, not a pleasant-Adelaide-29. There was not a breath of wind, and it was steamy.
The first thing that struck us about the Colosseum was the steps. The steps to climb up (and I intentionally say "climb up" and not "step up") are so high! I think they were almost half the height of ArgeySon. I would like to see a stat of how many ancient Romans tripped on their togas going up those steps! (Or maybe the ancient Romans weren't as clumsy as me).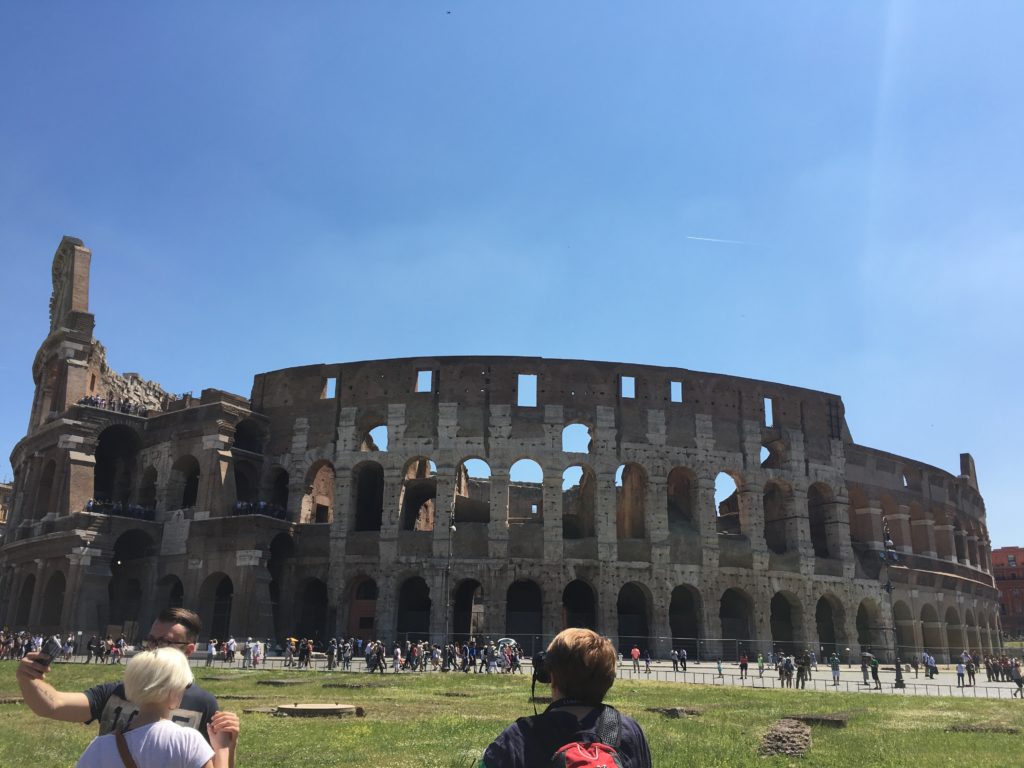 But gosh those ancient Romans were smart! Amazing architects, engineers, builders, artists! Because it was absolutely amazing. To think this beautiful building was built without cranes, or modern scaffolding, tools and machines – it is quite the feat.
When we got to the first level the first thing we did was visit the book shop so that ArgeyDaughter could buy a guidebook. She ended up with the Archeolibri "Everyday Life in Imperial Rome" and she has stayed glued to this book ever since. Through every part of the Colosseum she was holding up pictures comparing where we were standing, and reading out bits of information on what we were looking at. I think it was the best €14 she had every spent.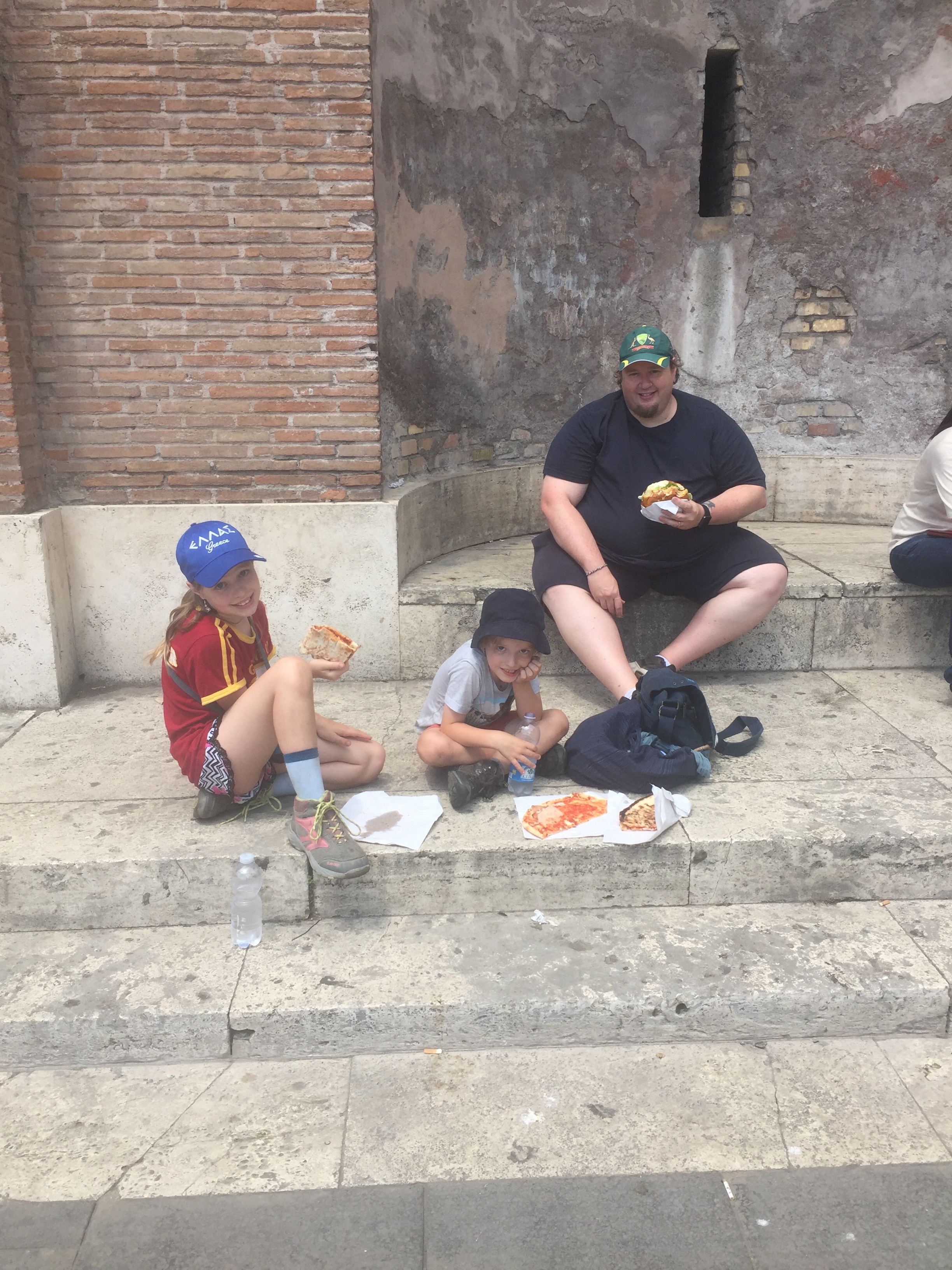 I also made an important discovery while we were at the Colosseum. There are four types of travellers in the world.
There are the stampeders: those that literally just run from point to point and click photos of themselves and their friends (often posed) and don't really stop to look at anything. They often will push in front of anyone to get the photo they want and rarely talk to anyone other than the nattering of their friends.
There are the marvellers: those to wander slowly marvelling at every teeny tiny detail of every brick, talking about the structure of everything. They often focus on the mechanical, but love reading or looking at every bit of information that is in front of them. It is difficult to be a marveller with children.
There are the disinterested inquirers: those who walk around saying "I wonder what that is?" "Do you know what that was used for?" and "How did they do that?" – they don't mind who they ask, and they don't really care about the answer either… more often than not they will say "Oh, right" when they get an answer and then move on.
Then there is those like us: I think we are a good mix of all three types (hopefully there is less of the stampeders in us though), but with an important fourth… emotion. It is The Daughter (more often than not) who brings up questions about emotion, social conscience and morals. "How would have the gladiators felt standing in this hall knowing they had to go out in front of a crowd and kill for their lives?" or "Why on earth did people think it was okay to be entertained by people fighting for their lives? and why did they pay for it?" or "Do you think that people walked around selling food and drink to people sitting up here because they would have been getting hot up here?"
We are blessed to be in this fourth group, and so very lucky to have a child who thinks and reminds us that there is always a human context to the what we are viewing. We aren't just seeing THINGS, FACTS AND FIGURES, but we are seeing people's lives throughout history. That's what our ten year old daughter has taught us all.