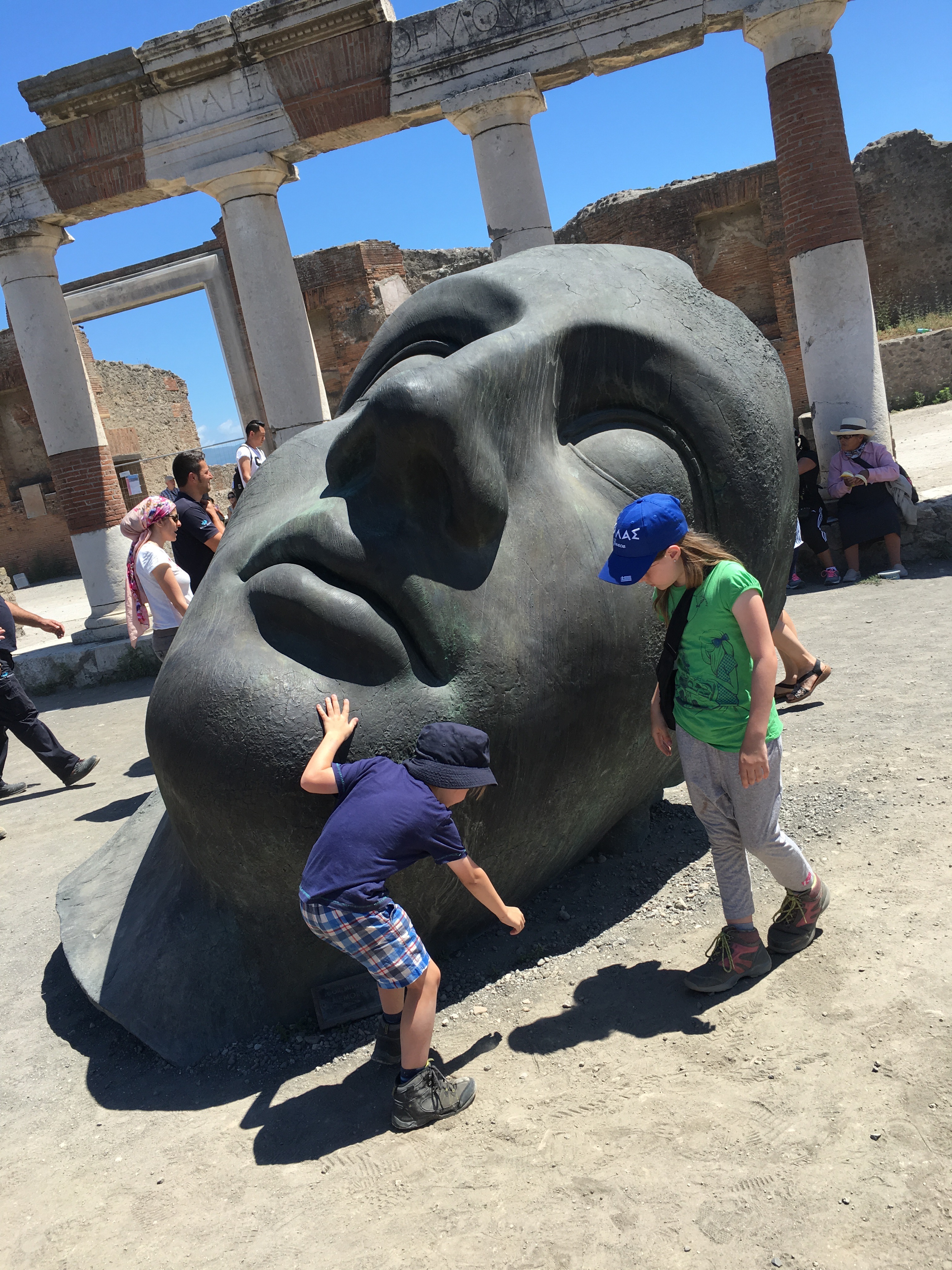 The Best in Travel: ITALY – PART III: POMPEII
We only had two full days in Naples. The first we spent exploring the old city of Napoli, the second day was the REAL reason we made the journey south… TO SEE POMPEII!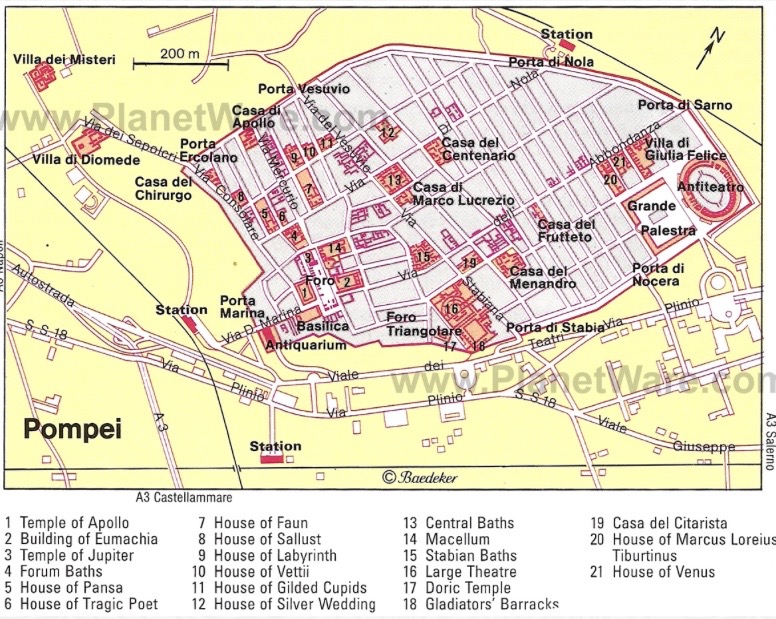 After the disaster of trying to find our way into the Naples city centre the day before, I decided to spend that night reading up on exactly how to get to Pompeii, where to park, how much it would cost and getting into Pompeii archaeological area ourselves. This meant we were a lot calmer and happier heading to Pompeii.
The drive from the north side of Naples down to Pompeii took about an hour. But it was a great drive. It was on the Autostrade (our first experience on the 'A' roads) and it was quite expensive, but it made for an easy drive. The most interesting thing about the drive was going past Mount Vesuvius and seeing all the houses that are built in the "red zone" (read their emergency plan here) and wondering why they would live there.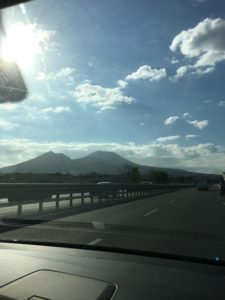 If you are keen sometime, google "Vesuvius Red Zone" – Every article is worth a read, quite fascinating.
After reading several blogs who all advised not to go in the main entrance of the Pompeii Ruins because you are bombarded with people selling trinkets, all the group buses park there, and there is nowhere to park a car, we headed to the Piazza Anfiteatro entrance. There is loads of on street parking, and there was less people there. We were still approached by several people trying to sell us audio guides or guided tours, but I had read enough the night before to be confident in saying no.
From this entrance the first place we got to see in the Pompeii ruins was the anfiteatro or amphitheatre. After having seen the Colosseum a few days before we knew what to expect, but this was still a complete structure, not as big as the one in Rome obviously, but it was interesting to see it complete. Once again, The Daughter questioned the morality of gladiators and slaves and killing for entertainment, while The Son ran around pretending to be a gladiator, with a stick for an imaginary sword that he was stabbing into thin air. Boys and girls hey?
After this we moved on to a big building which was the ancient people's athletics, education, training, philosophy and bathing area. It was a large courtyard area, which was quiet and peaceful. Apparently, when they started excavating the site, quite a number of bodies were found there. So either they were trying to hide there, given that it was the area furthest away from the volcano, or the explosion and destruction happened during training.
After this we wondered through some back streets and we found the back entrance to a house that was open. This is the most important tip regarding Pompeii – If a door is open to a house, GO IN!! Most of them are roped off and it seems it is just chance what houses are open on what days.
So we went in the back entrance of this particular house – Casa di D Octavius in Quartio II. We were all a bit chuffed, because the house looked very much like Peter Capaldi's house in the Doctor Who episode "The Fires of Pompeii" (which we watched while we had dinner that night). There were the most beautiful vines and fountains (obviously not running) and mosaics. We talked to the guide that was overseeing that house, and she showed us the lounge room (which is also where they slept) and their bathroom and their devotion room where they would go to give thanks to the household gods.
[youtube https://www.youtube.com/watch?v=p8ySiZjImY4]
When we walked through to the front of the house we found ourself on one of the main walking paths through the city. ArgeyDaughter got to see first hand how the Italians had pedestrian crossings for floods (something she had talked incessantly about since she read about it in Rome) and street cleaning, and ArgeySon had a great time playing on the stone streets. We walked down the street and saw the political posters still on the walls and even found the local "laundry" was open to view. Apparently people would bring their washing in, and slave girls would clean it for them, and the extremely poor would wee into pots and sell it to the laundry owners as bleach. All things that totally interested and grossed us out.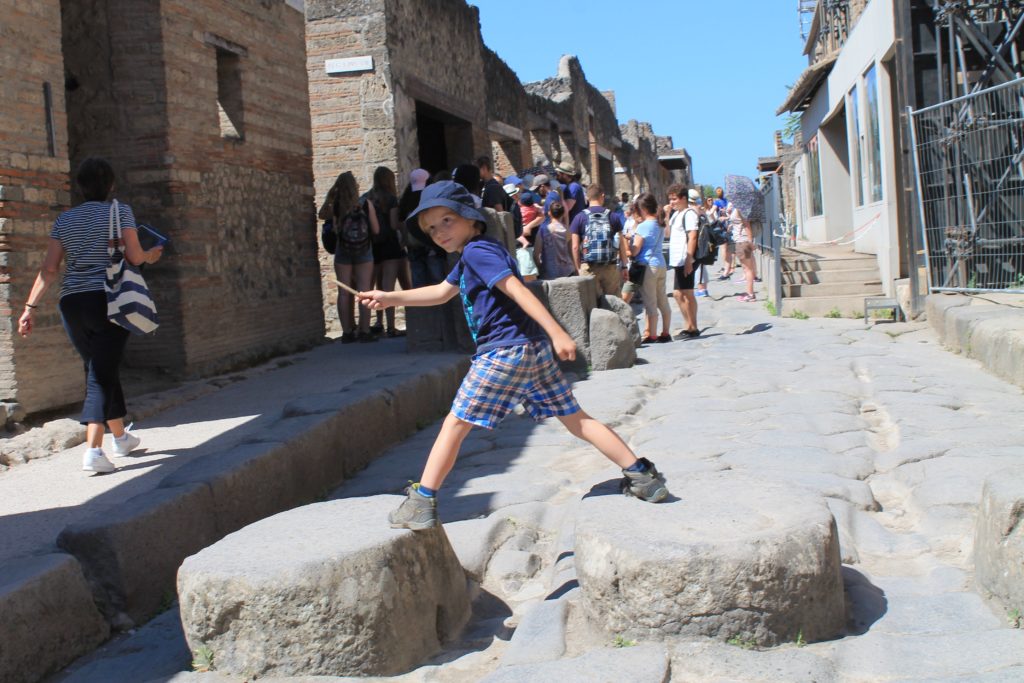 After this we went down a side street and sat down for some snacks and drinks in the shade. [This was also where we got to witness first hand a German family having an argument, or rather the Mother ripping it through her husband and kids – lesson learnt German Mother: when you throw an adult sized tantrum your kids will always remember the day they went to Pompeii as the day their Mum got furious with them. For me, it was a reminder that tainted memories are not what I want for my kids!]
After this we continued on down the road, filled up our water bladder from one of the ancient natural spring water fountains. These water fountains were built every few blocks as an access for the citizens of Pompeii to water. The houses and businesses didn't have access to water so they'd come and get it from these fountains. The fountains are still running and you can wash and fill up your water bottles in them (they are all through Rome as well, two-thousand public natural spring water fountains actually).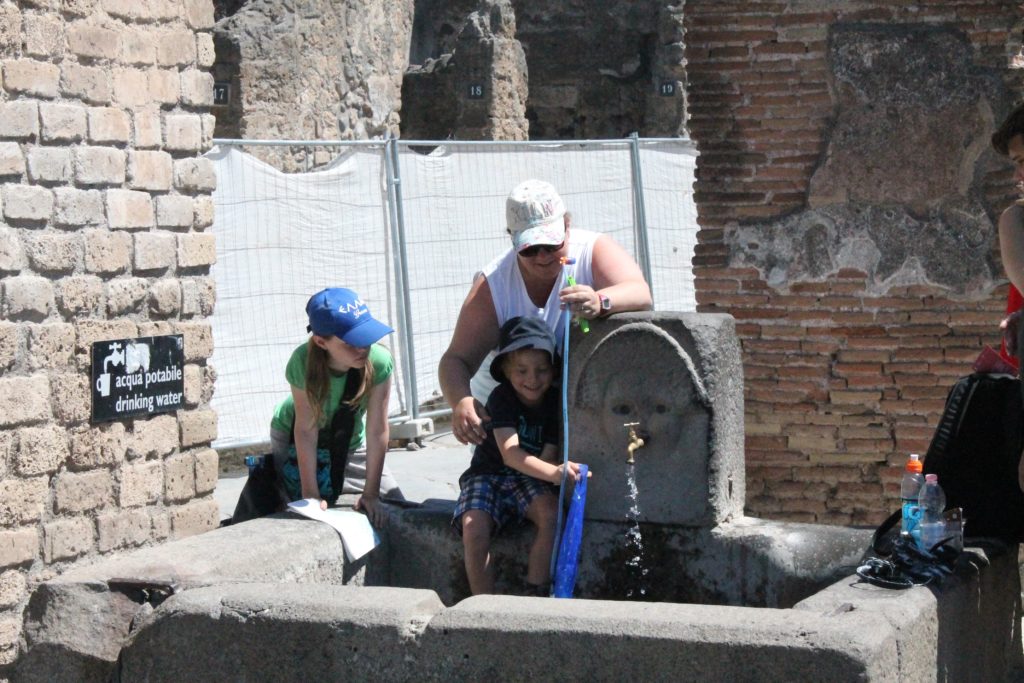 As we walked up the hill from the fountain we stood for about fifteen minutes and watched some archaeologists excavate a house. When one of the ladies noticed that we were standing and watching for quite a while, she came and told ArgeySon that they thought the area was a young ladies bedroom. They picked up quite a few bits and pieces and placed them in specially marked plastic bags. It made me wonder how many secrets are still buried under the rubble. When we moved onto the next area, we all had a heart attack when The Son reached through the barrier and tried to pick up a teeny tiny stone, and the archaeologists all looked up and yelled "noooo!" – Oh boy did we jump. And it took a few seconds before I realised what the issue was… little boys can't pick up stones in Pompeii, because who knows what that stone could be.
At the end of this road, and quite by surprise, we stumbled upon the main square of the Pompeii ruins. Here there were grand statues fallen on the ground and a large open expanse where people would have had stalls and gone about their daily errands. It is from here, as the highest point of Pompeii, you also get the best view of Vesuvius. It is kind of creepy standing up there knowing that the volcano that destroyed this amazing Italian village is still active and could explode again at any time.
There was still a load more to explore, but from here we decided to make our way down the hill and head out the main entrance. It was a bit of a hike back to the car from here, but the walk was a lot nicer (flat and on a normal footpath rather than on a stoney one).
And with that, one exhausted and dusty family, made their way back to the hotel and sat down for a night of Doctor Who viewing.
Pompeii was definitely one of the best things we have done this year.