Victor Harbor, South Australia – Our beautiful hometown.
Posted on August 25, 2017
What's that popular Aussie song? "I've been to cities that never close down, from New York to Rio and Old London Town, but no matter how far or how wide I roam, I still call Australia home."
There's definitely a hint of that in our lives – but Australia is probably a too broad locale. There is a place, near the tip of the Fleurieu Peninsula in South Australia, called Victor Harbor. And this beautiful place is my home! It is where I lived for the first 19 years of my life, and it is where I return to for almost every Christmas, Easter and school vacation that we can.
ArgeyDad is from a small town in Queensland. The kids have only ever lived in Adelaide, but even they I think, consider Victor a part of who they are.
Why do we love it? Well, we have family living there (all but one of my brothers). The house that we usually stay in, is the house I spent most of my teenage years in. So, I guess there is that familiarity that just makes it easy.

But it is more than that. It is hard to explain why some places seem to course through the veins of some people, and not others. I am sure if someone took a sample of my blood they would identify the DNA of Victor there. It is beautiful, there is family, there is so much to do, and yet, just driving down the hill into the town I get so excited, for none of those reasons. It is like my internal compass has finally settled.
My husband says as soon as he steps foot in the town, that he wants to sleep. I don't think it is because it is boring, but more because his body just suddenly relaxes and nothing in the world matters anymore.
We love all the regular activities we do when we visit Victor; from going to the footy on a Saturday arvo, to collecting crabs in ice cream buckets at The Bluff, there is nothing about this place I don't love. And there are still so many things we haven't done.
So, do I think you should visit Victor Harbor? Absolutely! Trust me! I'm a local!
Here are my top 20 must-do activities in Victor Harbor:
1. Granite Island & Causeway
Granite Island is just off of the Victor Harbor bay. You can reach it by walking over the causeway or by catching the horse-drawn tram. It is covered with, you guessed it, granite boulders! Plus you can see all the wildlife there (penguins and wallabies), and get a great view back to the town.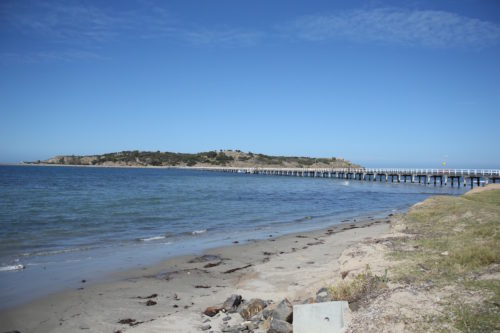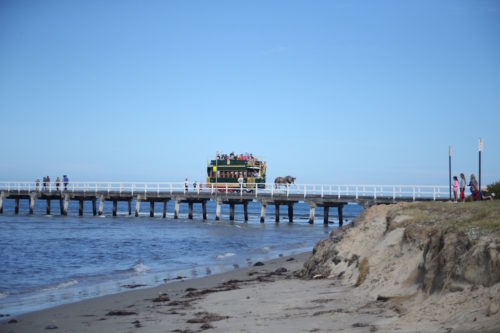 2. Farmer's Market, Grosvenor Gardens
Every Saturday morning in the tiny Grosvenor Gardens, there is a full to the brim Farmer's Market. Every time we are there we buy a stack of biscuits from Chomp, a stack of fruit and veg, and olives and bread and cheese, and whatever else we might want to munch on.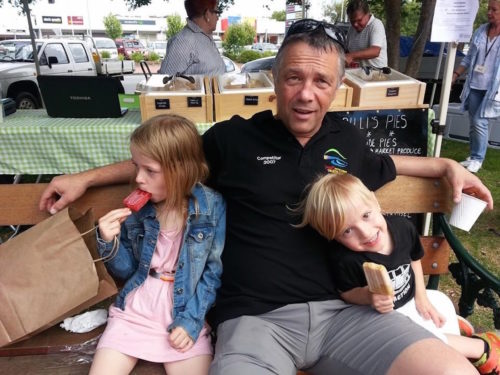 3. Cockle Train – The Steamranger Heritage Railway
A train that Sheldon would surely want to see, the steam powered "Cockle Train" takes you from Victor to Goolwa and back. At the Goolwa end, there are some great markets on the weekend, and an even better beer house.
Take a bucket, walk down to the beach and find some cockles, just like "in the olden times", as our kids say.
4. Walking from the causeway to the Bluff
This is a walk I used to do when I was studying in Year 12. It was a good break, and when my mind was filled with Classical history (my worst subject by far – remembering all the important dates of ancient Greek history was never my forté) the sea air often cleared my mind.
This is a surprisingly easy walk, but must be timed at the right time, in order to be able to cross the mouth of the Inman River without too much hassle. There's a foot bridge not that far up from there, but I prefer just crossing on the beach. It is much more fun to get your feet a bit sandy.

You can either walk the whole distance to The Bluff (this is about a 5km walk) and back (takes about two hours, maybe a bit more with kids who stop to look around and have a play), or you could just stop at Yilk Deli (number 6 on this list) for a coffee (that's about a 3km walk).
On the map below, you can see, in light blue, you can see the path that my iPad map gives me as a walk from the causeway to the Bluff, but if you walk along the beach instead you cut off a bit of time and have a much nicer trip. As I said you walk over the mouth of the Inman River (just take your boots off, you'll be fine) or you can walk up the river a bit that will take you to a small bridge (circled in red).
The red cross about two-thirds of the way down on the map is marking the Yilki Deli.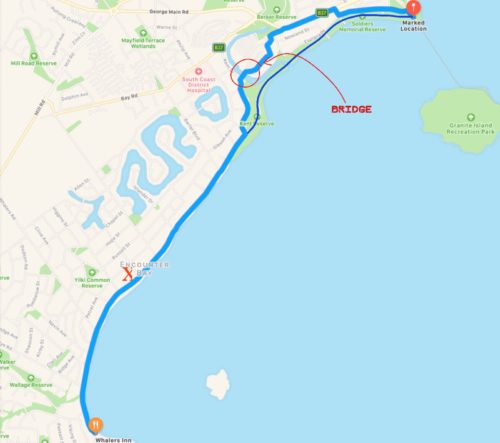 5. Coffee at Yilki Deli
The Yilki Store is where we always stopped as kids, to buy a 20 cent bag of lollies (candy) when we were at the beach. As adults, it is where we go for a great coffee (or if you are looking for something bigger, they have a great steak sandwich). This store holds great memories for me – there was nothing better than sitting on the foot path outside the shop, burning my butt on the pavement, wearing wet bathers, eating lollies out of a little paper bag with sticky, sandy fingers.
6. Klaus' Hotdogs, Railway Tce, Warland Reserve
Klaus' Hotdog Van is kind of a tradition in Victor Harbor. All the locals know it is there, but I'm not sure that many have actually tried them. But if you are in the centre of town and feeling like it might be time for lunch (and can't be bothered queueing at the fish and chip shop), Klaus' is the place to go. You can't beat a bratwurst with onion, sauce and mustard from Klaus. Absolutely!
7. Urimbirra
Urimbirra is the local nature reserve. It was the go-to location for primary school excursions when I was a kid. Filled with Australian wildlife, it is a great place to go and get an up-close experience with these animals. You can feed the kangaroos straight out of your hand, and if you time it right, you might even get a cuddle with a koala.
8. Curry/Pizza at the Beach House Cafe & Take-Away
Located right next door to the Yilki Store is the Beach House Cafe. You know that both places are brilliant when they stand next to each other and hold their own!
If you want the best curry or pizza (or curry pizza) in town, this is the place to go! They also have open mic nights, music, a bar AND they do take-away if you don't want to hang out with the other locals (and tourists) that frequent the place.

9. Climb the Bluff
The Bluff is the south-western point of the land that creates Encounter Bay, and Encounter Bay is the south-western side of Victor Harbor.
The Bluff stands taller than most parts of Victor and was used as a whaling look out back when Victor was a whaling port. The Whaling ships used to launch from there and, when I was a kid, the ruins of the whaler's shacks still stood on the edge of the bluff.
The South Australian Company, operated its own station near the Bluff, at Victor Harbor, with Captain Hart in charge for some time. By the end of the year more than two hundred tons of whale oil was exported from these whaling stations. A lookout was built, and manned, on the Bluff. When a whale was sighted a crew of seven men would rush for their boats, kept in readiness on the beach, and try to harpoon the whale. To bring in a sixty ton whale could take many hours and was both dangerous and very hard work. On 3 November 1838, the ship Goshawk left for London with 242 casks of oil and 395 bundles of whale bone from the South Australian Company. It also carried 95 casks of oil and 82 bundles of whale bone from Hack and Co.
Climbing the Bluff is definitely worth it. The walk is strenuous, a little steep in parts, but not difficult. If you are not fit, don't stress. It's not too hard, just go slow and you will get to the top. There's no award for getting to the top quickly.
When you do get to the top though the view is absolutely worth it! You can look both ways, over the bay, past Victor and all the way around to Port Elliot. On a clear day, you can see all the way around to the Coorong. Or you can look the other way, all the way around to Newland Head! One of the best views of the Fleurieu Peninsula.
10. Playing in the rock pools at the Bluff
While you are at the Bluff, you might want to put on your rubber boots, grab an ice cream bucket and start to inspect all the creatures that live in the Rock Pools by the Whalers Inn.
I asked the kids, what was their favourite thing to do in Victor and without any hesitation, it was "crabbing at the Bluff".
Just remember, if you are going to pick up a crab, do so from behind, and be gentle. Place it in a bucket of sea water (this is why you take an empty ice cream bucket with you), observe it and then gently put the bucket in the water to let the crab crawl back out. Also, if you move a rock, put it back where you found it. It's somebody's home.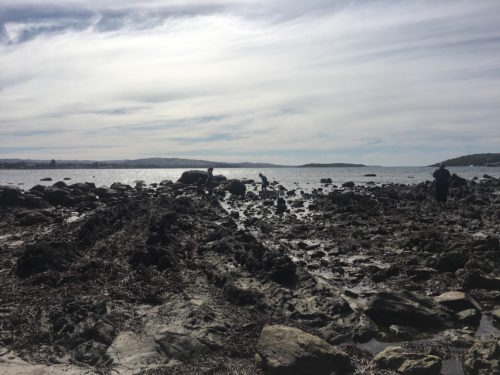 11. Build Sandcastle at Horseshoe Bay, Port Elliot.
Not strictly in Victor Harbor, but worth a mention, Horseshoe Bay sits just around the coast from Victor Harbor. Sandcastle building has become a kind of Olympic sport these days. Kids want shaped buckets and spades and all sorts of knick-knacks to make their sand castles awesome. But Horseshoe Bay is the best beach to just make a sandcastle, the old-fashioned way, with hands and sticks and shells and seaweed and stones.
12. Girdler Sideshows
The Girdler Sideshows, that sit at the entrance to the Granite Island Causeway have been there since well before I was born. Grab a hot doughnut, go on a ride or two, play on the playground next door if money is running low, and just have a beautiful time.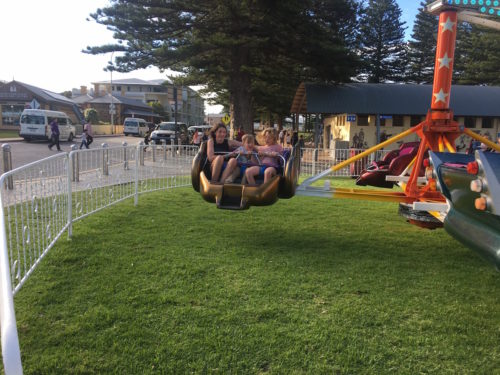 13. Catch a local game of footy (especially if it is local derby weekend).
Absolutely, my favourite thing to do is go to the footy. Parking the car around the oval, sitting there watching the local match is awesome. I still have nephews that play, so that is a bit of fun, to see them play, but even if I don't know anyone in the match it's still great.
We always pack some camp chairs, grab some blankets and pillows from home, park the car in backwards at the oval, and open up the boot for the kids and whoever else to sit in. People wander past on the way to the canteen or the club rooms, drop in for a chat, and get warm under the blanket for a bit.
The best games are always between Victor and Encounter Bay, so if you happen to be there on the weekend of one of those games, then make sure you drop in. Every now and then, they also have night games, which are an added bit of fun.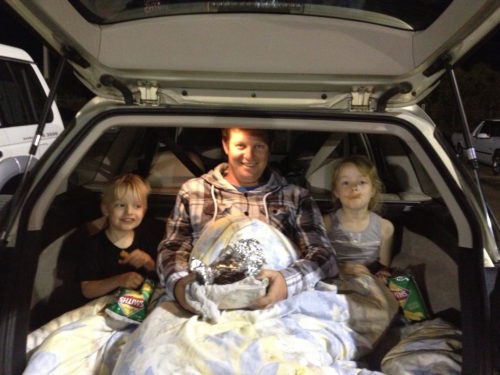 14. Squid fishing at the Bluff
Now, fishing is not really my thing, by ArgeyDad spends ages sitting at the jetty at the Bluff watching the squid fishing that goes on there. He's even tried it once or twice and loves it. As I say, I don't know the ins and outs of it, but if you go to TackleBusters they will let you know exactly what you need to get started, and the good times to head out.
15. Fly a kite and have a BBQ at Kent Reserve
If you have a kite, Kent Reserve (apart from having a fantastic playground) is a great location to fly a kite. The beach there seems to catch the wind really well and has a great open area to run around with a kite.
The park area has barbecues that cost a couple of dollars to get working, and then a nice afternoon can be had there.
16. Walk to Kings Beach to go for a swim
If you love a bit of a hike that has a great reward at the end, then a day at Kings Beach is for you. Just go down Kings Beach Road, park in the car park and then walk a couple of hundred metres on the Heysen Trail, and you can get down to the beach.
It is simply stunning there, and we had many family days there. From beach fishing to swimming, from picnics to beach cricket, it has all been done at Kings Beach.
17. Have a snoop through the Victor Harbor Antique Centre
Do you love poking through little treasure troves and antique shops? Well, the Victor Harbor Antique Centre is perfect for this. Sure you could look at their wares on eBay, but going there is so much better. I poke my nose in on most trips to Victor, and I have spent more than my fair share of money at that shop!
18. Take in a show put on by the South Coast Choral & Arts Society
I have seen so many South Coast Choral & Arts Society shows, I couldn't even name them all. If you are in town when they have a show on, then get a ticket and go! Cheaper than the West End and with twice as much community!
19. Take a look at the South Australian Whale Centre
If you want to learn more about the history of whales in South Australia, from the whaling history to current day conservation efforts, then the SA Whales Centre is a fantastic place to start.
An entirely educational experience for the kids, and well worth a visit to expand on what they are already learning while doing some whale watching.
20. Blackberry picking on the backroads between Victor, Mount Compass, and Goolwa.
Okay, I can't name them all, but there are roads between Victor Harbor, Mount Compass, and Goolwa, where in late summer you can go and pick wild blackberries. Make sure you wear long sleeves, because you don't want to get scratched to death, but go and get covered in the purple juice and eat loads of berries.
What accommodation is there in Victor Harbor?
Victor has a couple of really nice hotels, that are family friendly. In the summer it might get a bit noisy if you are in the centre of town (after all, it is a summer holiday hot-spot) but nothing that an exhausting walk/swim before bed won't take care of. There are also loads of holiday rentals if you would sooner have a kitchen, laundry, and other "home" comforts.
For hotels you might want to check out hotels.com on the search bar for holidays rentals, we suggest homeaway.com.
Want to see where some other travellers are from? How some feel about the idea home? How some are completely happy to just call the world their home? Check out these blogs from some friends of ours:
– Magnets From Everywhere – World Schooler Exchange – Travel With Jess – Going Where The Wind Blows – The Little Den – Border Free Adventures–