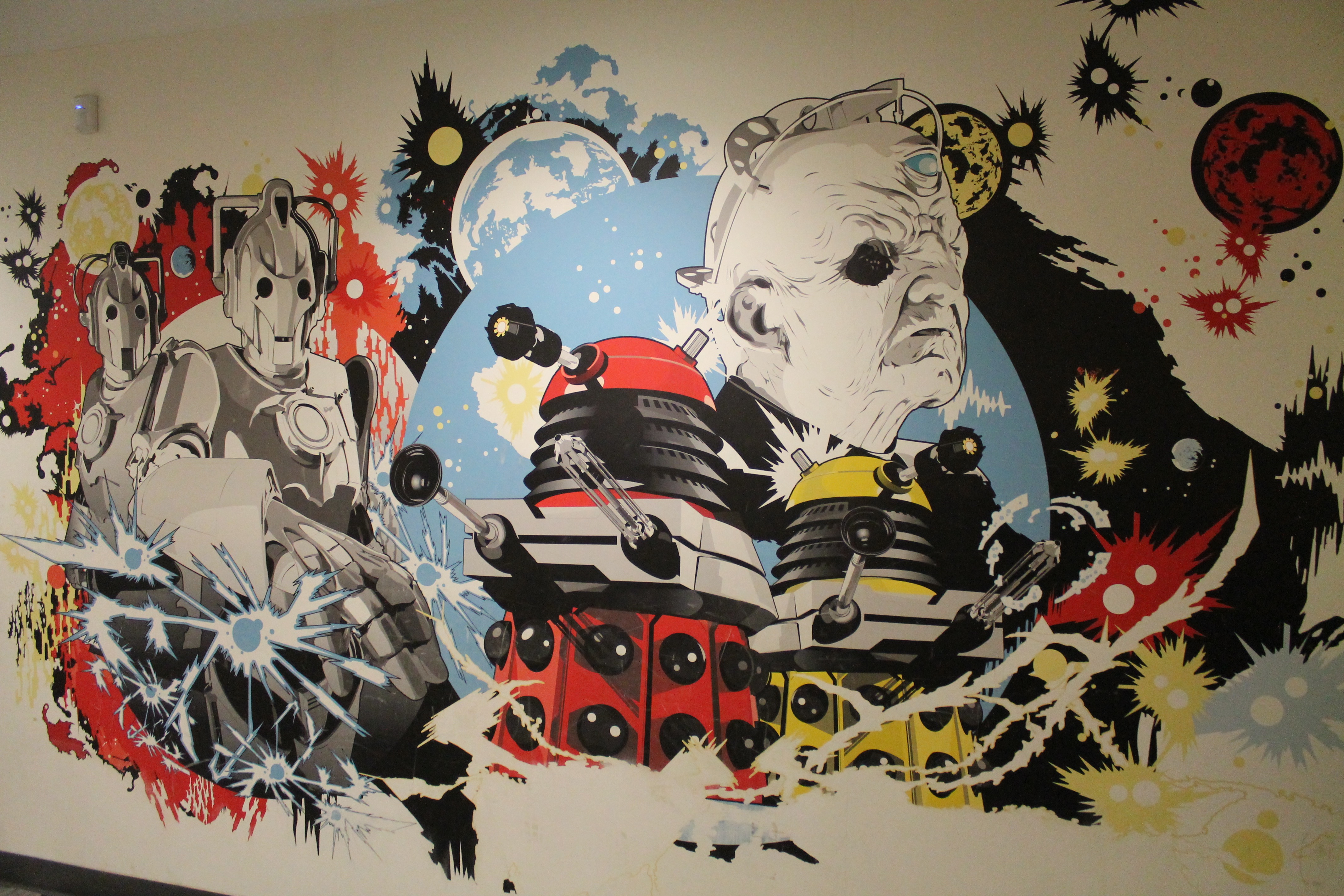 Doctor, Doctor Who? – The BBC Doctor Who Experience, Cardiff Bay
Posted on February 4, 2016
Thursday the 21st of January was a day of making dreams come true… Well for one particular member of the party anyway (not that all of us weren't willing participants).  We visited the Doctor Who Experience, in Cardiff Bay.
To give some context, our family are all big fans of the new series of Doctor Who.  We have watched religiously since discovering it through a friend's recommendation in 2006. ArgeyDaughter has even gone on to watch most of the original series as well.  This would indicate a deep level of fandom, however there is one member of our family who has taken their fandom to an almost obsessive state at times; almost always requiring that there is a sonic screwdriver within reach, quoting lines from favourite episodes on a regular basis, watching at least 1 episode a day for almost all of their lives… I am of course referring to our little ArgeySon.
Whenever we have mentioned going overseas for the last year or so there has only ever been one destination that ArgeySon has even considered – Wales.  "Wales?" I hear you saying.  "Why Wales?"  A good question.  A good question with a very simple answer.  You see, Wales, more specifically Cardiff is the home to the BBC Wales studios.  This just happens to be the place where the magic of Doctor Who comes to life and is filmed.  Situated right next door to the BBC Wales Studios, is the Doctor Who Experience.  A huge building containing and interactive Doctor Who Experience and the official Doctor Who Museum (known as the Gallifrey Museum).  this is the only place in the world that ArgeySon has wanted to go for the last year of so, basically ever since he found out that the museum existed and today, well today was the day that we were finally going!  Needless to say that some people in the family had quite a restless sleep the night before and arose quite early in the morning also.
The weather wasn't fantastic and it was cold, but that didn't matter at all as were would be inside the whole time.  After parking the car, we began the short walk towards the Experience building.  Excitement grew with every step and upon seeing our first TARDIS boiled over into squeals of glee and rapture (oh and the kids were excited too :b).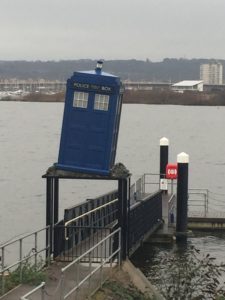 We bought our tickets for the interactive show and waited.  The show was great.  It was a walk-through story adventure featuring videos of Peter Capaldi's doctor and a live guide who was part of the story.  We walked through several rooms containing some of the Doctor's most feared enemies – Daleks & Weeping Angels and we ended up in a remake of I. M. Foreman's Junk Yard at 76 Totter's Lane.  The experience was a bit intense in a few parts, particularly the parts that included the Daleks and the Angels.  ArgeySon clung on to his Mum so tightly through it all that I think she still has the fingernail marks in her legs and arms today.  ArgeyDaughter was also a bit nervous in parts.  I would recommend that anyone taking kids with them is certain of their children's levels of fear tolerance before entering as once you start there is no turning back.  Having said all of that, both kids absolutely loved it!
Stepping out of the experience and into the Gallifrey Museum where on display were props, monsters, TARDIS's and costumes from all series of the show.  We spent a good hour in the museum alone looking over all of the stuff that was in there.  Just a looking at and touching some of the original items used in filming was very cool.  The kids learnt how to walk like Cybermen which was very entertaining to watch.  They got to go inside a Dalek that was cut in half and see what the view was like for a Dalek.  I wish I could post all of the photos we took but that would take up too much space so I have selected a few below.  We weren't allowed to take any photos or videos in the Experience but once int he museum we had free reign to take as many as we wanted.
After we had finished looking we went into the shop and then had lunch before leaving.  It was such an amazing day, one that none of us will ever forget, least of all ArgeySon…