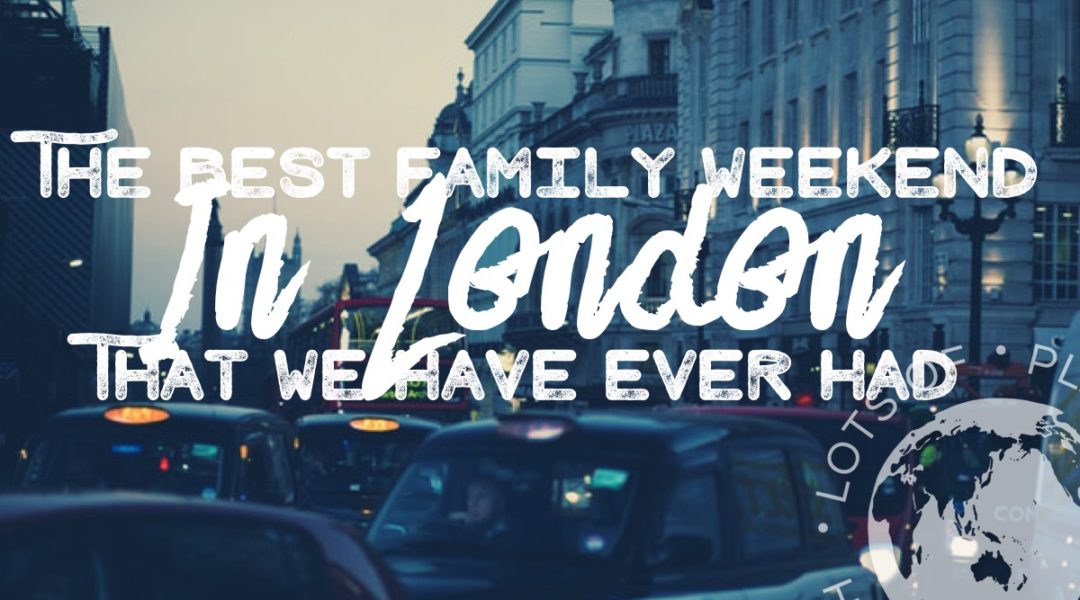 The Best Family Weekend in London We Have Ever Had
Posted on August 15, 2017
Summer in London is beautiful. I had the best summer in London when I was a single, twentysomething, backpacking my way around. The nights were, well I won't say warm, but they were pleasant. We could have Friday night drinks after work, and then walk up the road for a takeaway curry, and not have to worry about the rain. They were good times. But this year, we had the best family weekend in London that we have ever had.
Traveling to London from outside of the city:
Train travel in the UK is so easy. Sometimes it isn't even worth driving, you may as well just catch the train, especially if you are just trying to get to one particular place and don't care about seeing stuff along the way.
You don't need to buy train tickets in advance either unless you want to reserve seats, but there are always carriages that are for unreserved seating. There are always instructions at the train station that will tell you where to wait for the unreserved carriages.
We caught the train to London (Euston) from Penrith station, which is only a small station but is a stop on the trip from Edinburgh or Glasgow to London. We bought some snacks from the vending machine and sat on the platform, waited for our train.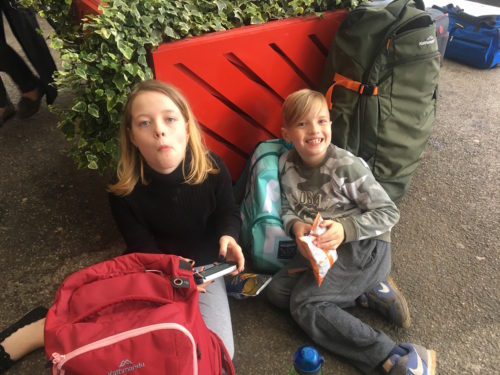 BUDGET TRAVEL TIP: The Family and Friends Railcard means when we buy train travel between locations in the UK we get 30% off for adult tickets and 60% off for kids tickets. It only costs £30 a year for the railcard and we saved £145 on our return train travel, from our base near Cumbria to London. Definitely worth the purchase. You can order the card online if you have a UK delivery address. If not, you can buy one on arrival at Gatwick Airport, the Stansted Airport rail stations, Luton Airport Parkway and Manchester Airport, as well as at all staffed National Rail stations. Train travel in London is so easy and with the Family and Friends Railcard, it is cheaper than driving.
We had a great time on the train trip. It was a three and a half hour train trip, but we had some snacks, a magazine or two, books and the iPads loaded with TV shows, so we were good to go.
Transport in London:
When we arrived in Euston Station, we found our way to the underground, checked how much money we had on our Oyster cards, and then we were good to go. Two tube rides and a bus trip and we were at our hotel.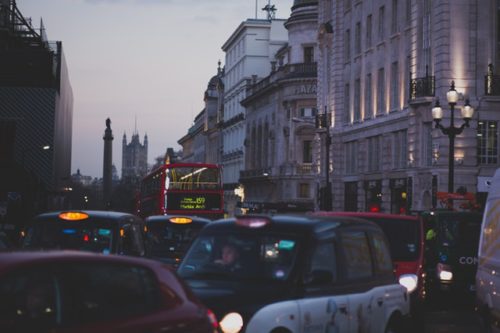 A good tip for transport in London is to use the Citymapper App. We use this app in most cities world wide. We find it to be the most accurate or all the transport apps. Sometimes, if we aren't happy with the route we have been given, we have to take a walk around the corner or to the next stop, but that's fine. The other thing we do is sometimes we recheck the route, half way through the trip. For example, if we have to change buses, we just check the trip again using the app, at the change.
The other thing that you need to know is that if you are staying in Zone 2 or 3, you need to allow about an hour to get anywhere. Sometimes you will be a bit early, sometimes a bit late, but that's a good guide for how long it takes to get to most places – even the locals allow an hour or so. Regardless, Citymapper will give an estimate of what time you will arrive at your destination.
The best hotel for a family weekend in London:
I'm going to write a post all about accommodation in London, which will go into detail about the best accommodation and where we go to book everything, but for now, I will tell you about where we stayed on this trip. And really, this is the only hotel you need to know about if you don't mind staying a bit out of the city.
So, we stayed at the Holiday Inn Brentford Lock. Granted it is in Zone 3 and took two tube rides and a bus to get to the hotel, but public transport in London is not difficult to navigate, so it is really not a hassle at all getting in and out of the city.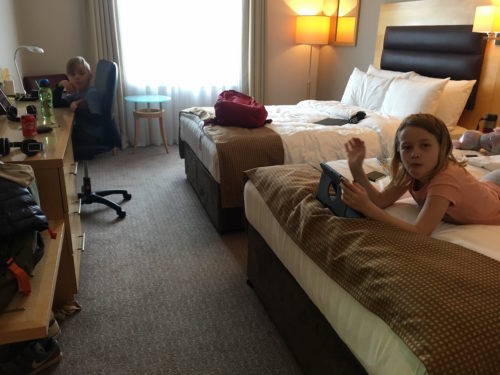 We discovered this place because our normal London hotel decided to double their prices. Summer in London is generally quite expensive. All hotels up their prices quite a bit, but our hotel has decided to double their prices permanently, which put it well out of our budget. As we've discussed before, we try not to pay more than £50-£60 a night, and in London, that goes up to about £80 a night. Mostly that is achievable, with a bit of dedicated research, although we have paid more. It was disappointing at the time, to learn that our normal hotel had raised their prices, but I am SO glad now because the Holiday Inn Brentford Lock is WAY better! You have to pick your days/weekends to get the cheaper prices, but regardless, if they are pricey, you can be guaranteed other places closer to the city are going to be more expensive.
5 FANTASTIC THINGS ABOUT HOLIDAY INN BRENTFORD LOCK:

The staff are great. Friendly, helpful & chatty.
The breakfasts (which you can add when booking or buy when there) are amazing. They have all the normal things, like eggs, bacon, sausages, baked beans and hash browns, but they also have pancakes, pastries, 2 different smoothie flavours, fresh juices, water, tea and coffee, cereals, a gazillion different toasts and spreads, salami, ham, cheeses, yoghurts.
There is a bar and Starbucks coffee in the foyer.
Room service (or order and pick up from the foyer) is fantastic. Kids eat free from the kids menu when an adult eats from the main menu.
There's a chocolatier across the road.
It is one short bus trip to get to the Chiswick/Turnham Green area. When I lived in London in my twenties, I worked in Chiswick, and lived in South Ealing, so this was my hang out – it hasn't changed – it is still an awesome area and completely family friendly.
The Museum of London
On Saturday afternoon, we spent a few hours at the Museum of London. The museum literally follows the history of London from prehistoric times through to modern day London.
Without a doubt, our kids favourite section was the London Before London exhibit the best, with the bones of a mammoth jaw, and "caveman" artefacts.
They became entirely enthralled when they discovered that there had been excavations and discoveries, in places where they had been and experienced over the last year. It brought about a history of the place that was even more diverse than they imagined. Once ArgeySon learned that the London he knew hadn't always been there and that it had changed incredibly over time, he kept saying things like, "Imagine you were a caveman living near the Thames!" or, "Do you think a mammoth lived where our hotel is?"
BUDGET TRAVEL TIP: Most museums in London are free! You could fill a whole summer in London just going to free events, exhibits and museums! They certainly know how to give families a budget holiday. Here is a list of our favourite FREE museums that kids won't be bored with:

British Museum (they even have an Australian indigineous exhibit – handy for those who are following the HASS curriculum for kids in year 6 or 7 in Australia).
Natural History Museum
Science Museum
Museum of London
Imperial War Museum
V&A Museum of Childhood
National Maritime Museum
Guildhall Art Gallery & Roman Ampitheatre
Royal Air Force Museum
Tate Modern
I was really expecting ArgeyDaughter to be more interested in the Roman history of London than anything else. But I think, she had learnt so much from visits to Rome and Pompeii, and Hadrian's Wall, that something else caught her imagination this time; the Fire of London. She tends to latch on to places, stories and history that has a truly emotional context (something that I didn't notice about her before we started travelling). If there is a personal story where she can empathise, that is where she is most interested.
The museum has a lovely diorama in a dark room which, with a film playing behind that talks through stories from the fire, lights up with the progression of the fire.
The museum often has a great number of events on, with special exhibits and vacation events, which all looked really interesting. We had a jam packed schedule when we were in London, so we didn't get to actually experience any of the events, but they all looked so interesting, and the kids were quite disappointed we didn't have time. You will find more information for families visiting the Museum of London here. You will find all special events here.
Our favourite burger joint in London.
When in London, we almost always eat at Byron Hamburgers. The first time we went there it was because we were meeting some friends for dinner and it was close to where they live. Now we eat there just because it is delicious! This is one of our most favourite places to eat in London. The food is fresh and, well, it has burgers, mac and cheese, and oreo milkshakes, so the kids are always happy there.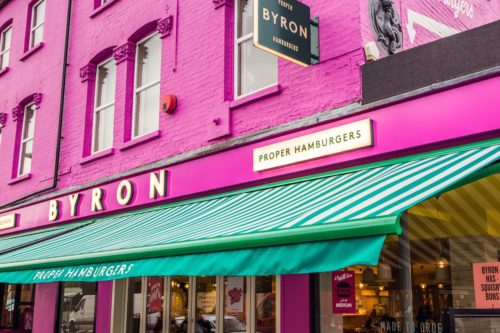 To get to Byron, from the Museum of London, we caught a bus through Wandsworth. No matter how many times I've been there (and in fact, we've been there a few times, and even stayed in Wandsworth once) I always wonder whether I'm at "the dodgy end".
Looking for a quiet Sunday in London? How about Hamley's?
Yeah, no. If you are looking for a quiet Sunday afternoon activity, I would be going to Hamley's before lunch (you'd want a late lunch because Hamley's doesn't open until midday), then head over to Hyde Park for a relax on some deck chairs. That is really the best thing if you are spending a summer in London and you are looking for a quiet Sunday afternoon.
If not, than Hamley's is a great idea! We've talked before about how wonderful Hamley's is. But this time we went with the kid's pocket money in hand, and a few hours to spare. Hamley's is awesome because on each level there are at least five stations, where the kids can have a play with the toys on offer. The only downside is, they don't have seats for the parents to sit down at. I was standing around wishing I had packed a camp chair and some ear plugs. Nah, not really, it was fine, but it was hot in there, and it is noisy. Not somewhere you want to go if you aren't feeling great!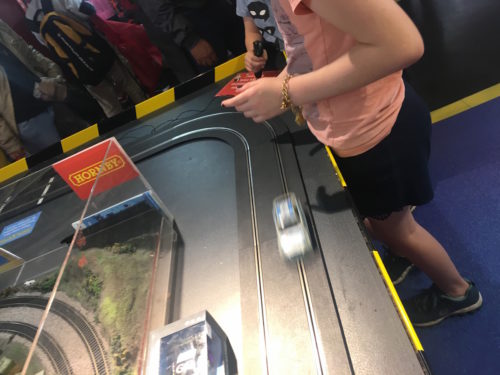 The ArgeyKids had a great time playing with Scaletric cars, UFO drones, Magic Lights, watching the magic trick and felt tip demonstrations. They made some great purchases with some pocket money.
What makes Summer the best time for a family weekend in London?
Truth be told, we love London at any time of the year, but summer in London is when you can actually stay out at night. We wander around at night in London in the middle of winter. We go to Trafalgar Square at 10pm with the kids and don't think twice (as long as we are rugged up). But in Summer the twilight lasts for hours, and you can stay out without freezing. I mean you still need a jacket (especially if you are from Australia) but it is really quite lovely.
The ArgeyKids had a ball wandering around after dinner, taking a stroll to the Clapham Junction station (we got caught in a light shower but nothing too frustrating). Then it was a 45-minute train ride back to the Brentford. It was about 9:30pm when we got off the train, and there was still another hour of light. One short bus ride from the train back to the hotel, and before we knew it we were bathed and showered, and in bed sipping hot chocolates (thank you, 24-hour coffee shop in the hotel foyer).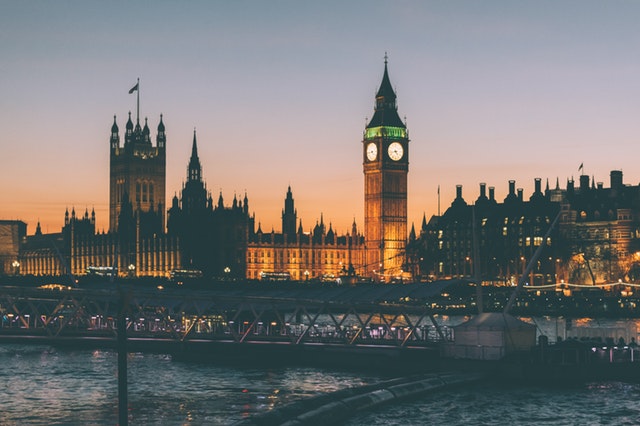 Well, that was how our family spent a great weekend in London. We will be back again soon to see Annie! so be sure to check back for our thoughts on taking kids to the West End.
PIN THIS IMAGE TO READ LATER